Calvary Episcopal Church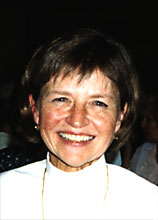 Memphis, Tennessee
February 18, 2001
The Seventh Sunday After the Epiphany
Reflections on a Rigorous Gospel
The Rev. Margaret B. Gunness

Gospel:Luke 6:27-38
(This sermon is also available in audio.)

Today's Gospel reading doesn't leave us much wiggle room, does it?
Love your enemies,
do good to those who hate you,
bless those who curse you,
pray for those who abuse you.
If someone strikes you on the cheek, offer the other.
If someone steals your coat, give him your shirt as well.
If someone steals from you, don't ask for your possessions to be returned.
To follow these teachings of Jesus is a rigorous, demanding, unequivocal proposition. It's to agree to "Do unto others as you would have them do unto you". It's to affirm that our entire lives are to be governed by a principle other than self-preservation or the survival of the fittest. It's to uphold in our own lives a principle of goodness and generosity that reaches beyond all measure or imagining.

In a way it reminds me of the theological concept called kenosis, a good concept for us to recall from time to time. The word kenosis describes the action through which Jesus "emptied himself," actually putting aside the equality with God which was his and letting go of all of the prerogatives of being the Son of God, in order to become fully human—like us.

Have this mind among yourselves, which is yours in Christ Jesus, who, though he was in the form of God, did not count equality with God a thing to be grasped, but emptied himself, taking the form of a servant, being born in the likeness of men.

Now when I first realized the full implications of this concept, I thought to myself, "How utterly remarkable, how overwhelming, that Jesus would pay that cost for our sake." But it was only much later that I began to realize that perhaps, in like manner, the reverse needs to be true of us as well. That perhaps we too are called to empty ourselves - not of divinity, for that's not ours to give - but rather to empty ourselves of our self-protecting, self-projecting human traits, in order that we might become more like Jesus. Perhaps we are to strive to empty ourselves of that self-centered part of our humanness in order that we might be filled with the generous spirit of the divine.
Reading this text reminded me of a story I once heard while we were living in Boston. It's the story of an austere New England Puritan preacher who had the reputation of demanding unflagging piety and good works of his flock. One morning when he was preaching a particularly rigorous sermon to them, he was suddenly overwhelmed by a new awareness and a horrible, sinking feeling that some one of them out there, somewhere ... might be having a good time.
Perhaps it was this morning's text he was preaching on. This Gospel reading is so demanding, so comprehensively rigorous, that it's easy to feel a sense of failure before you even get to the third line.

Love your enemies, do good to those who hate you,
or curse you, or strike you on the cheek.
And if someone takes your coat, give him your shirt as well.
Where do we even begin with a charge like this? With our check books? With our calendars? In our homes? The schools? The housing projects? Where do we begin....? Well, it seems to me that the only place we can begin is with ourselves, inside of ourselves. This goodness and generosity that Jesus calls us to show forth in our actions must first take root and grow in our souls. And, as I've said to you before, we first have to determine what our own interior point of reference is, because it's that center, that self-understanding, that gives shape and strength to our every action. So what is that reference point, that standard for decisions and choices in our life, do you know? Is it ourselves or is it God? Is it our purpose in life or God's purpose for us? Is it courage or cowardice? Grasping everything to ourselves or sharing with others? Is it faith in the power of God working in us, or faith in our own power, whatever that may be? I think it's profoundly important that we ask ourselves these questions and that together we seek the answers. So think about it. What is your interior point of reference? We need to face in to that question, because, you see, I believe that God needs us, needs you and me, to carry on the work that Jesus himself began in the world. So it is imperative that God's word and God's will become that reference point for each of us and for our lives.

Now, I realize that, by their very nature, such things as unconditional love, or giving deeply from our own possessions, or daring to trust or to change or to accept change, none of these are easy. And I realize that we struggle with them at home, in schools, in the workplace, even here at Calvary Church and in the Anglican Communion as a whole. Frank Griswold, our Presiding Bishop, recently raised a question with his Executive Council that seems, in a way, to relate to this very struggle of putting God at that place of being the point of reference for our decisions and our actions. This is the question he put before them: 'Which is worse?" he asked, "Which is worse, heresy or schism?"
His answer to that question was this:
Heresy can be corrected over time by the community, and sometimes what is thought to be heresy...is later found to be true. Schism, on the other hand, is difficult to repair once a break has been made. Truth is discovered (together), in communion. ("The Living Church," February 25, 2001)

We all know that there have been schisms, both great and small, in the history of the Church, but it's important to recognize and emphasize that the Church has survived nonetheless. And I believe that over the centuries, the Church has been working its way towards Truth, and that in each year, each decade, each century, we are doing that still. I believe that the work of the church was and still is, essentially, to "liberate the goodness of God within us," (Listening for the Heartbeat of God, by P. Newell) and to restore humanity to the basic wholeness and holiness which were ours from the beginning.
So I close with an admonition given by Winston Churchill in what I think was his last public speaking engagement. He had been asked to give the commencement address at a particular college. When he rose to speak, that great Lion of England stood at the podium for a long time. He simply stood looking out over all the young people gathered there, so filled with the promise of the future, and yet himself remembering all those other young people who had so recently given up their lives for their country. And then finally he spoke, quite simply, and said, "Never give up. Never, ever give up." And then slowly he went and sat down again.
So Jesus speaks to you and to me this morning. "Love your enemies," he says. "Do good to those who hate you, bless those who curse you, pray for those who abuse you." And never, never give up.
Copyright 2001 Calvary Episcopal Church
"But I say to you that listen, Love your enemies, do good to those who hate you, bless those who curse you, pray for those who abuse you. If anyone strikes you on the cheek, offer the other also; and from anyone who takes away your coat do not withhold even your shirt. Give to everyone who begs from you; and if anyone takes away your goods, do not ask for them again. Do to others as you would have them do to you. If you love those who love you, what credit is that to you? For even sinners love those who love them. If you do good to those who do good to you, what credit is that to you? For even sinners do the same. If you lend to those from whom you hope to receive, what credit is that to you? Even sinners lend to sinners, to receive as much again. But love your enemies, do good, and lend, expecting nothing in return. Your reward will be great, and you will be children of the Most High; for he is kind to the ungrateful and the wicked. Be merciful, just as your Father is merciful. Do not judge, and you will not be judged; do not condemn, and you will not be condemned. Forgive, and you will be forgiven; give, and it will be given to you. A good measure, pressed down, shaken together, running over, will be put into your lap; for the measure you give will be the measure you get back." NRSV