RELATED LINKS:
What if The Da Vinci Code makes me uncertain about what I really believe?
THE SPIRITUAL COACH
Challenging your belief system
FILM
A review of Ron Howard's film of the book
IN BOOKSHELF
THE LAUGHING JESUS:
Religious Lies and Gnostic Wisdom
by Timothy Freke & Peter Gandy

THE GOSPEL OF MARY OF MAGDALA
by Karen King

OPUS DEI: An Objective Look Behind the Myths and Reality of the Most Controversial Force in the Catholic Church by John L. Allen, Jr.
THE SECRET MESSAGE OF JESUS:
Uncovering the Truth that Couuld Change Everything
by Brian McLaren
MISQUOTING JESUS: The Story Behind Who Changed the Bible and Why by Bart Ehrman

The book has been discussed for years and the movie buzz is building. Why are people still talking about Dan Brown's novel of secret societies, Roman Catholic conspiracies, and the relationship between Mary Magdalene and Jesus Christ?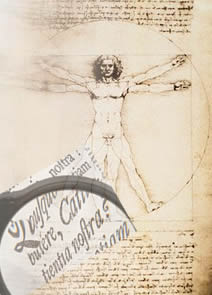 Dancing with Da Vinci
by Anne Robertson

A Review of the film
by Jana Riess
A look at the book (2004)
by John Tintera
The Da Vinci Code Phenomenon (2004)
by John Sewell
Dan Brown's Gift to the Church (2004)from
by Marcia Ford
"Beneath the Brushstrokes"
by Richard G. Miller

Knowing More: a series of
articles posted in 2004
Discovering " Lost Christianities"
The Mystery of Mary Magdalene
Exploring the Legacy of the Gnostics


To purchase a copy of THE DA VINCI CODE
, visit amazon.com. This link is provided as a service to explorefaith.org visitors and registered users.