St. James' Episcopal Church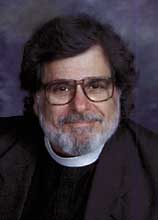 Jackson, Mississippi
June 16, 2002
The Fourth Sunday after Pentecost
Grief and Hope
The Rev. William A. Kolb
New Testament: Romans 5:1-8

You and I gathered like this for the first time in early March of last year--before 911, before my dear Sunny's great illness. Some who were here then are with the Lord. A lot of life, and some death has transpired.
At that time I said that you were not strangers to me, but that you were friends I had not met. Well, I have met you and you are my friends, and I have found it to be good.
You are a strong, resilient and worshipful congregation. You are going to be just fine. You have learned that YOU are the Church and that that Truth goes on whether you have an interim rector, a permanent rector or no rector. Corporately, YOU are the Body of Christ in this place.
And I suppose the main duty of Christ is to reach out to those who cannot fix themselves--to reach out to the poor, the powerless, the grieving, the dying, and the sick. And a piece of the Body of Christ, St. James' Church, excels at this reaching out, even to its own. In fact, especially to its own. You do Inreach right. You do it in quantity, large quantities of love.
It may be that you do your best at the worst time, the time when one has suffered a grievous loss. As you know, I lost Sunny, my best friend and biggest fan, after eight months of troubled illness. I am heartbroken. I hurt so much. I miss her so much. It is so hard to accept as reality. I consider what has happened to be unacceptable, unimaginable and unbearable. My dear wife has died and I am sore wounded.
I have seen others suffer grievous losses in recent weeks and months: the names Coleen and Mark O'Brien, and Warren Roper come to mind.
You have made a big difference for them and for me. It is so amazing how powerful a difference your love and concern, your visits and embraces, your prayers and your understanding can make for one who grieves. Speaking personally, you have "borne me up as on eagles' wings." I have been lifted by your faith and love as never before.
There is a place in one of the epistles where Paul talks about our helping others when we have a surplus and they have a need, and their helping us when they have a surplus and we have a need. I heard a New York City fireman on Good Morning America the other morning. The fireman was part of a company that had lost perhaps thirty firemen. The reporter asked him how he was getting along. He replied something like, "Well, I have bad days when others help me.
Then, when I have a good day, I help those who are having a bad day."
I believe those examples are what our ministry to one another is all about. I am reminded of St. Paul's ruminating about sin increasing because of law; that is, the more law there is, the more people defy the law, and sin. Oddly it is kind of that way with the awful pain of the death of a loved one: the more pain there is, the more grace abounds. People have reached out to me as I never have experienced before. It is wonderful. It is amazing. I give thanks to God for it.
But I have to tell you that no matter how comforting the community may be, there is a spot that nobody, nobody can touch. It is where the rubber hits the road for Christians and you have to drive it alone.
Death is where the rubber hits the road. Christianity is all about surviving death. Christianity hinges on the promise of eternal life. The main product of our faith is the promise and the hope that death is not the end of things. The promise of eternal life is, you might say, the main stock in trade of Christianity. We are promised that if we are part of the body of Christ, our membership assures us that we will survive death; our spirit will live on and someday our body will be
resurrected. That's the promise.
But despite the strength and comfort we may derive from the all-loving embrace of those around us, we must go alone to the darkness of missing our loved one. We must cry and talk to God as we slowly let the reality of it sink in. Nobody can do that for us or even with us. Nobody, that is, except God. And God can't help until we let him. In some phases of early grief we may not allow God to help. Our anger can get in the way.
Our prayerbook tells us that all is well with those whom we love but see no longer. But we can ache so from missing them. Perhaps our pain is not just for the one who died, but for ourselves--our pain of losing them, of missing them, our unfinished business, our lack of closure, whatever.
Nobody can fix that pain. But I tell you, that is what the Eucharist is all about. The Holy Eucharist is a foretaste of eternal life where we will feast at the banquet table of heaven. The Holy Eucharist, which Jesus was very clear about our celebrating at least weekly, is the gift of hope and peace that we are offered while we still must hold these truths by faith until we wake up to see them in heaven.
Do you know what Sunny said on her last day, hours before she died, at a time when she almost died? She said "Jesus is calling me; it is my time to go. Jesus is here now; I have to go." The nurse said that Sunny was very comfortable with it. She was very happy to go to Jesus. She was very calm and not the least bit anxious.
Jesus said, "Peace I leave with you, my peace I give to you. I do not give to you as the world gives. Do not let your hearts be troubled and do not be afraid."
Friends in Christ, we are blessed with a sure and certain hope; we need never be afraid. Life is endless. Thanks be to God.
Amen.
Copyright 2002 The Rev. William A. Kolb
New Testament Reading: Romans 5:1-8
5:1 Therefore, since we are justified by faith, we have peace with God through our Lord Jesus Christ, 5:2 through whom we have obtained access to this grace in which we stand; and we boast in our hope of sharing the glory of God. 5:3 And not only that, but we also boast in our sufferings, knowing that suffering produces endurance, 5:4 and endurance produces character, and character produces hope, 5:5 and hope does not disappoint us, because God's love has been poured into ourhearts through the Holy Spirit that has been given to us. 5:6 For while we were still weak, at the right time Christ died for the ungodly. 5:7 Indeed, rarely will anyone die for a righteous person--though perhaps for a good person someone might actually dare to die. 5:8 But God proves his love for us in that while we still were sinners Christ died for us. NRSV