Calvary Episcopal Church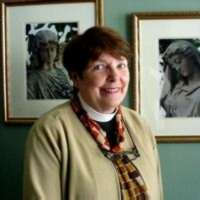 Memphis, Tennessee
February 17, 2002
The First Sunday in Lent
Temptations
The Rev. Marianne Williams
Gospel: Matthew 4:1-11
(This sermon is also available in audio.)

Dan Matthews tells a story about a mother cat who went out for a stroll with her little kittens, when suddenly there appeared in the distance a huge, ferocious dog coming down the lane and right towards them. The cat moved quickly to get her kittens to a safe place underneath the porch of a nearby house. Then she turned and ran in the direction of the threatening dog. When the dog came so close that she could see the whites of his eyes, she leaned in even closer and said, "Arrff, Arrff!" The dog was so taken aback that it fled in the opposite direction. The cat, with head held high and all the dignity she could muster, walked back to her kittens, sat down and said, "Now do you know why I stress the importance of a second language"?
Anyone who has experienced learning Latin, Spanish, French, Italian, German or Greek, knows that learning a second language is a difficult thing to do. It takes a lot of discipline and the opportunity to practice with those who may have more training or experience than we. But we also soon learn that it is up to us to develop the acute listening skills and to make the commitment to learn new and foreign concepts. It is a hard thing to do!
That's what being here today is all about? Isn't it here--in this faith community--that we learn to hear and to speak a second language? Aren't we here to learn how to speak in the language of the Kingdom? The language we learn in order to live out our baptismal vows? The words we say during the Eucharist, "Take eat, this is my body which is given for you."?
In today's Gospel reading Jesus helps us turn down the volume on culture language--the language we are all familiar with--the language of power, control, of getting ahead, and making a place in the sun for ourselves! When Jesus is confronted and tempted to assuage his hunger, or when he is promised control of the whole world, he tries to teach us, who are constantly confronted with choices that involve our discernment, that Lent is a time for tuning our ears and listening carefully to God's unceasing plea. We are able to hear God's plea, amidst the noise of cultural pressures, by learning to speak that second language.
The Church takes all of this so seriously that it provides us some of the words we need right in our Book of Common Prayer. In our baptismal vows we read the question, "Will you persevere in resisting evil and, whenever you fall into sin, repent and return to the Lord?" The answer given is, "I will, with God's help."
That's Kingdom language, and it's just as difficult for us today as it was for the disciples. They didn't get it--and no wonder. This language speaks about the first being last and not taking the best seat. It speaks about caring for the poor, about loving God and your neighbor and not counting the cost. This Kingdom language is all about love and relationship and relying on the grace that comes to us through the Holy Spirit.
In Lent we are all asked to venture into the wilderness of our own hearts--in those places where we are tempted to respond to one direction or the other. It's important that we know and respond to the voice of the One to whom we are committed, to the One who does not abandon nor leave us to live within
the limitations of our culture's voice.
We come here Sunday after Sunday to learn to keep in touch, so that we may practice the ways of this language. It is difficult to learn apart from those who journey with us. It is doubly hard when we live outside of here with those who don't know, nor do they speak, our language, where some even consider it foreign.
So this first Sunday in Lent we are invited to commit, anew, to a life of learning, of repentance and returning. No matter how many times we may need to repeat the process. And we do it because we believe that God is good; and we have more faith in God's power to make us new than in our own power to mess up.
But the language of Lent is not all sackcloth and ashes! Like with the mother cat, it is courage and love. It is growth that leads to rebirth! It means that the seed is in the ground because Lent means Spring! We put aside "Alleluia" because it is not part of Lent's language. Yet we know that our Lord will rise on Easter to many "Alleluia's." Lent is a time to prepare, to study and to pray in the language of our Lord. AMEN!
Copyright 2002 Calvary Episcopal Church
Gospel: Matthew 4:1-11
Then Jesus was led up by the Spirit into the wilderness to be tempted by the devil. He fasted forty days and forty nights, and afterwards he was famished. The tempter came and said to him, "If you are the Son of God, command these stones to become loaves of bread." But he answered, "It is written, 'One does not live by bread alone, but by every word that comes from the mouth of God.'" Then the devil took him to the holy city and placed him on the pinnacle of the temple, saying to him, "If you are the Son of God, throw yourself down; for it is written, 'He will command his angels concerning you,' and 'On their hands they will bear you up, so that you will not dash your foot against a stone.'" Jesus said to him, "Again it is written, 'Do not put the Lord your God to the test.'" Again, the devil took him to a very high mountain and showed him all the kingdoms of the world and their splendor; and he said to him, "All these I will give you, if you will fall down and worship me." Jesus said to him, "Away with you, Satan! for it is written, 'Worship the Lord your God, and serve only him.'" NRSV