Healing Words for the Body Mind and Spirit
by Caren Goldman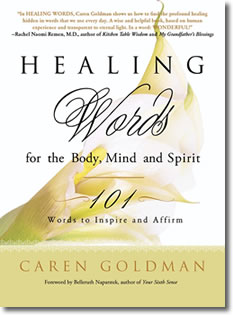 "Choose life so that you and your descendants may live." 
Those words from Deuteronomy invaded the thoughts of Caren Goldman on a fall day in 1999 after a half-year of health crises that plagued her and her family. Her mother's hip, her father in law's heart, her daughter's central nervous system, and her own breast all succumbed to disease that fall, and with their deterioration came a simultaneous attack on her spirit. What was she to do faced with one health crisis after another?
Choose life.
Caren is an author. She has spent more than 25 years writing about spirituality, health and psychology. So, naturally, choosing to move toward life, wholeness and healing would be a journey of words. 
From that choice came Healing Words for the Body, Mind and Spirit&—a collection of 101 words that point us toward wholeness and life. These are wise words from all traditions that illuminate a way toward healing even when our lives seem to hold only darkness. 
Below we present four of those entries from Healing Words, one offered each week during the month of October, when we are all asked to become more aware of breast cancer, the disease Caren herself faced back in 1999. From her reflections and the associated quotes and affirmations in these pages, we hope that the power of these words will help mend your shattered places by offering new ways to consider and embrace healing, well-being and peace.


From Healing Words for the Body, Mind and Spirit by Caren Goldman. Copyright © 2001, 2009 by Caren Goldman. Used with permission from Morehouse Publishing, an imprint of Church Publishing Inc. A PORTION OF THE PROCEEDS OF THIS BOOK WILL BE DONATED TO BREAST AND OTHER CANCER CAUSES
Help explorefaith when you purchase HEALING WORDS FOR THE BODY, MIND AND SPIRIT or any other item from Church Publishing, Inc., our Partner in Ministry.
Also available at amazon.com.

SOUL
"When you regard the soul with an open mind, you begin to find the messages that lie within the illness, the corrections that can be found in remorse and other uncomfortable feelings, and the necessary changes requested by depression and anxiety."... Read more.
STRENGTH
According to my friend Bud, a gifted musician and recovering alcoholic, our cultural imperative to "be strong" can be misleading. "Whenever I felt really strong I wanted a drink," he said. "But it took being weak to know that my life needed to change."... Read more.
GRATITUDE
I find it interesting that the English word for "thanks" arose out of Indo- European words for "think" and "thoughtfulness." Although I know there are times when I thoughtlessly say "Thank you" in response to another's words or deeds, my sincerest expressions of gratitude are more thought filled.... Read more.
HOPE
Whenever we pilgrims on the way trip over sickness, loss, and other stumbling blocks, it is hope that bolsters our resolve to search for a healing path.... Read more.