Home > Oasis > Passages > Pure in Heart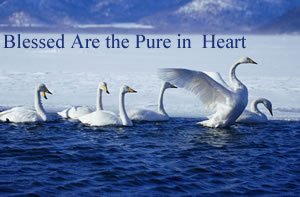 Listen to spoken message with music.
You will need the free real player to listen.
Only one of the Beatitudes promises the grace to see God. It is the sixth. "Blessed are the pure in heart: for they shall see God." (Matthew 5:8) Perhaps the reason for this is that only those who struggle with the issues of the heart are able to quiet it like a mirrored lake on a windless dawn. Quiet it so still that it can reflect the very face of God.
There is at once a riddance or a shedding of all that is not essential and an embracing of the 'one' thing that is.

In a time of confusion, complexity and myriad expectations, there is the temptation to be frantic. Such a frantic posture closes the door to stillness and inner calm. We make the mistake of believing that our security is found in results rather than clarity.
This is a time for loving the questions, more than having answers to them. It is a time for balance - a time to re-align the conscious with your un-conscious.
When a person is in delirium from fever, they are not sure what is going on around them. They are engulfed in an opalescent world, hanging between reality and the land of dreams. When the fever is broken and the body emptied of disease, the person is refreshed in the assurance of reality.
In a time of spiritual fever, the soul must be swathed in gentle quiet and stillness. Take time now to enter the very center of your being where Christ is present. Let go of all that is sickening your soul, letting it float silently from you. Look into the eyes of Christ and see there your own heart beating and whole.
Read by Renée Miller. Music - "La Partita," traditional arrangement by Daniel Foster Johnston & Jeanne Simmons. Daniel Johnston-classical guitar & Jeanne Simmons-keyless wooden flute. ©2003 Daniel Foster Johnston.
---