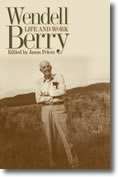 WENDELL BERRY: LIFE AND WORK
edited by Jason Peters
reviewed by Jon M. Sweeney
A bookseller first introduced me to WB's poems and essays in high school, and I was immediately moved by them...like a physician, [she] prescribed WB to my suburban soul. I have always been grateful to her for that. Read more...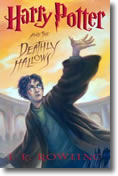 HARRY POTTER AND THE DEATHLY HALLOWS
commentary by Torey Lightcap
BEWARE:
DO NOT READ FURTHER IF YOU HAVE NOT COMPLETED THE HARRY POTTER SERIES. THE FOLLOWING COMMENTARY CONTAINS NOTEWORTHY INFORMATION THAT VERY WELL MAY SPOIL THE FINAL BOOK FOR YOU. IF YOU HAVE NOT FINISHED HARRY POTTER AND THE DEATHLY HALLOWS, DO SO FIRST, THEN RETURN HERE LATER.
WE'LL WAIT.
It's fitting that Harry Potter and the Deathly Hallows is the finest entry in this incredibly popular series —a compelling, articulate, tough, and deserving read from an author who both manages the details and remembers her larger purpose. Read more...

TOM MERTON: A PERSONAL BIOGRAPHY
by Joan C. McDonald

ECHOING SILENCE: THOMAS MERTON ON THE VOCATION OF WRITING
STRANGE HEAVEN:
THE VIRGIN MARY AS WOMAN, MOTHER, DISCIPLE, AND ADVOCATE
by Jon M. Sweeney
SERVE GOD, SAVE THE PLANET
by J. Matthew Sleeth M.D.
MY LIFE WITH THE SAINTS
by James Martin, SJ

JUST PEACE: A MESSAGE OF HOPE
by Mattie J.T. Stepanek with Jimmy Carter
LIVING WORDS: THE 10 COMMANDMENTS IN THE 21ST CENTURY
by G. Corwin Stoppel
LEAVING CHURCH: A MEMOIR OF FAITH
by Barbara Brown Taylor
MISQUOTING JESUS
by Bart Ehrman


THE LAST WORD
by N.T. Wright
RIVER RISING
by Athol Dickson
BORN AGAIN AND AGAIN:
SURPRISING GIFTS OF A FUNDAMENTALIST CHILDHOOD
by Jon Sweeney
WHITE CHINA:
FINDING THE DIVINE IN THE EVERYDAY
by Molly Wolf
FREQUENTLY AVOIDED QUESTIONS: AN UNCENSORED DIALOGUE ON FAITH
by Chuck Smith, Jr. and Matt Whitlock
THE END OF FAITH: RELIGION, TERROR, AND THE FUTURE OF REASON
by Sam Harris
WHERE GOD HAPPENS
Discovering Christ in One Another and Other Lessons from the Desert Fathers
by Rowan Williams
CHRIST THE LORD: OUT OF EGYPT
by Anne Rice