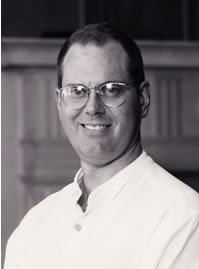 Mark W. Muesse, Ph.D.
Associate Professor of Religious Studies
Rhodes College
Memphis, Tennessee
Mark W. Muesse is Associate Professor of Religious Studies at Rhodes College in Memphis, Tennessee. A native of Waco, Texas, Muesse received his B.A. summa cum laude in English from Baylor University. He completed his graduate work at Harvard University, where he received a Masters of Theological Studies from the Divinity School and the A.M. and Ph.D. in the Study of Religion from the Graduate School of Arts and Sciences. Muesse is author of Redeeming Men: Religion and Masculinities
, and has also been Visiting Professor of Theology at the Tamilnadu Theological Seminary in Madurai, India, traveling extensively throughout Asia. He has been a practitioner of meditation for over fifteen years and has studied the Buddhist discipline at the International Buddhist Meditation Centre, Wat Mahadhatu in Bangkok, Thailand and the Himalayan Yogic Institute in Kathmandu.

What Rumi Means to Me, or Why a Southern Baptist-turned-Buddhist Came to Revere a 13th–century Muslim Mystic
I first learned of the Sufi saint Mevlana Jalal'uddin Rumi several years before he became one of the most popular poets in America, though I don't quite remember when.


Men at Midlife: Male Spirituality and the Second Half of Life
At the conclusion of my annual eye exam, my optometrist addressed me with that dismaying preamble, "I'm sorry to tell you this." I braced myself for the bad news...



"Forgiving, Again and Again"

Some years ago I came across an idea that helped clarify and deepen my understanding of forgiveness. Forgiveness means relinquishment. It's that simple.
Individual books are linked to amazon.com. Links are provided as a service to explorefaith.org visitors and registered users.